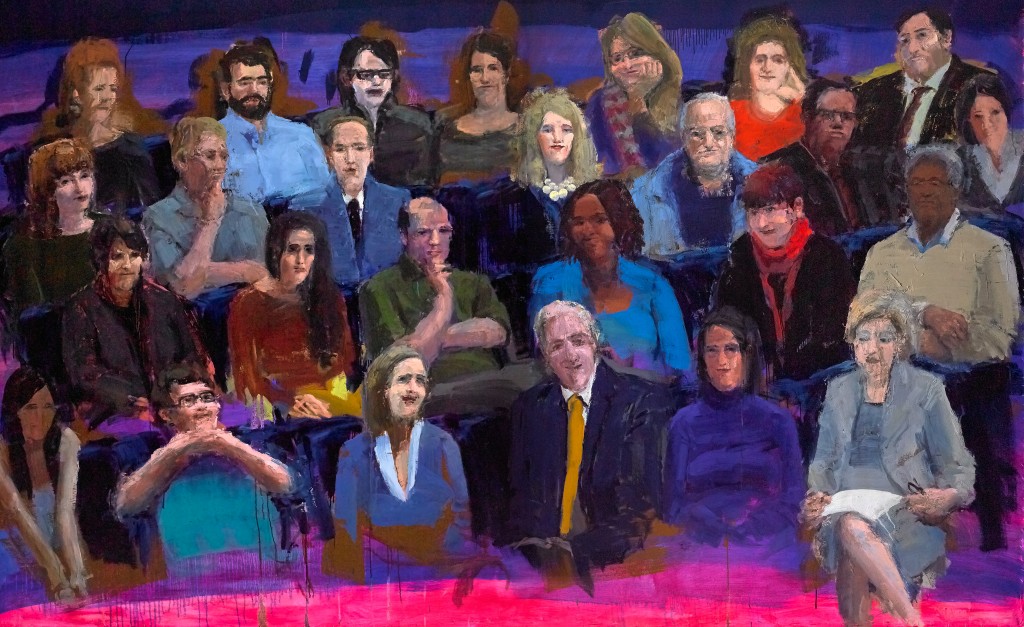 Tirtzah Bassel: I Want To Hold You Close, March 7 – March 30, 2015
Installation for Open Source Gallery, 306 17th Street, Brooklyn
In a culture where we are increasingly watching and being watched, Bassel is interested in how we perform. Using the rapt audience of a TED Talk as subject, "I Want to Hold You Close" is an immersive installation centered on a large-scale oil painting of a crowd, effectively placing the viewer on stage. As the viewer confronts the specificity and humanity of each individual's existence within the audience, unique identities begin to stand out against the crowd.
Bassel explores the tension between anonymity and individuality, highlighting the desire for closeness and recognition that often drives our performances in real and virtual encounters. Inspired by work such as Marlene Dumas' "Chlorosis" and the Terracotta Warriors of Xi'an, China, Bassel uses the traditional genre of portraiture in conjunction with the obscurity of a crowd to allow a sense of intimacy to unfold, even within the monumental scale of her painting. Her expressive brush strokes and vivid colors bring attention to subtle details of expression and body language. The all-encompassing installation is an invitation to slow down and spend a contemplative moment in the space.